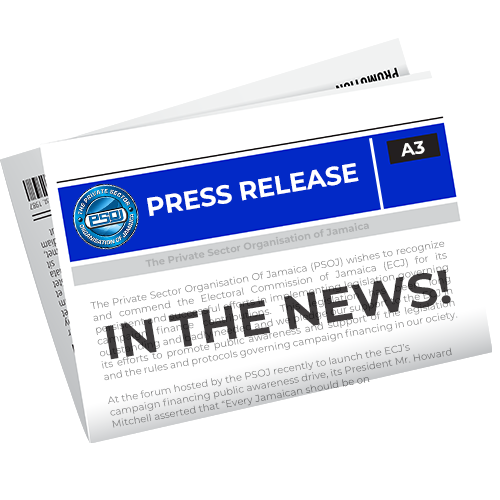 CRIME SITUATION REQUIRES ACTION NOW!
The Private Sector Organisation of Jamaica (PSOJ) is urging immediate action from our political leaders who are charged with the responsibility of protecting our nation from the scourge of crime and violence.   PSOJ President Christopher Zacca made this call against the background of the shocking and terrible start of the new year 2009, which has already seen a significant number of reported cases of murder and other violent crimes in Jamaica.
In July of last year, a group of private sector leaders met with the Honourable Prime Minister and presented a list of proposals. Later that month the Prime Minister outlined the following measures to be implemented:
on conviction for serious gun crimes, a person shall not be eligible for parole before 10 years
extended detention of criminal suspects for up to 72 hours, under certain conditions;
denial of bail for persons charged with serious crimes for up to 60 days;
provisions for a majority of nine jurors out of 12 to decide on non-capital murders.
.         the police will be given access to restricted information from state agencies, in specified circumstances;
the use of DNA for evidence;
provisions allowing testimony from secure and remote locations.
The PSOJ is alarmed at the lack of real progress in enacting the required legislation in the more than six months since the Prime Minister's announcement in Parliament.  This belies the gravity of the situation and it appears that the members on both sides of the House are not seized with the urgency that is required to address the worsening crime situation.      The PSOJ is concerned that the political directorate has not come to a consensus and seem not to be demonstrating the political will to take the strong, yet measured actions to deal definitively with this scourge. The PSOJ is therefore making an urgent appeal to the Honourable Prime Minister, the Leader of the Opposition, Parliamentarians, and all who have a key role to play, to move with urgency to ensure that the required bills, now before the Joint Select Committee, are passed.  The proposed legislation, we believe, will assist the Police in its efforts to fight crime along with the several other actions being taken to reform the JCF.
According to Mr. Zacca "The nation is in the midst of a global economic crisis and all efforts to keep the economy afloat will come to nought if we as a country do not seriously and urgently address the levels of crime and violence in our society.  I am calling on our leaders to act now!"