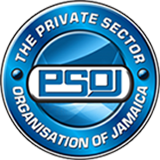 May 29, 2015
Kingston, Jamaica:
Digicel and the Credit Union Fund Management Company Ltd (CUFMC) were earlier this week crowned winners in their respective categories at the 4th staging of the Private Sector Service Excellence Awards. The event was held during the PSOJ's bi-monthly President's Forum at the Jamaica Pegasus Hotel on Tuesday, May 26.
Digicel was the winner in the large business category, while CUFMC was the winner in the medium sized business category. Digicel also won a number of the category awards, including:
• Leadership & Strategy
• Monitoring and Measurement Systems
Other category winners included CUFMC; NCB; Jamaica Money Market Brokers Ltd (JMMB) and the Insurance Company of the West Indies (ICWI).
Vice President of the PSOJ Christopher Barnes, in congratulating the winners, spoke of high-quality customer service being the characteristic that can set a company apart from the rest. He urged PSOJ members to continue working towards improving their levels of customer service, saying that Awards like these that offer public recognition of those who are doing well, will hopefully serve as a catalyst for those who are not meeting the necessary criteria, to do better.
Similarly, JaCSA Founder Ilsa DuVerney, encouraged more companies to participate in the Awards, saying that taking part will allow for a critical view of a company's operations and an opportunity to be recognized as market leader in the area of customer service.
The PSOJ and JaCSA applaud the winners who continue to maintain excellent service standards and look forward to further improvement.
The Private Sector Service Excellence Awards was launched in 2011 and is a joint initiative between the PSOJ and the Jamaica Customer Service Association (JaCSA). The award aims to showcase and recognize the best in class for Customer Service.
Applications were accepted in three categories – small, medium and large organisations and only PSOJ and JaCSA members are eligible to participate. The criteria for assessment are as follows:
• Leadership and customer service strategy
• Existence and effectiveness of a Customer Service Charter and Standards
• Training and capacity building to ensure adherence to customer service standards
• The existence and effectiveness of monitoring and measurement systems for customer service
• The existence of a system for logging, tracking and resolving customer complaints.
• The existence of mechanisms to reward and recognize the delivery of excellent service within the organisation
Winners were selected based on information provided by applicants as well as objective evidence collected on site visits.
Sagicor won in the large business category last year, while Jamaica International Insurance Company (JIIC), now GK General Insurance, won in the medium-sized business category.
PSOJ/JaCSA Private Sector Service Excellence Awards 2015
 Category Award Winners
| | |
| --- | --- |
| Award | Winner |
| Leadership & Strategy | Digicel |
| Service Excellence Charter & Standards | JMMB |
| Training & Capacity Building | NCB |
| Monitoring & Measurement Systems | Digicel |
| Recognition & Reward Programmes | ICWI |
| Handling of Customer Complaints | CUFMC |
Special Award Winners
| | |
| --- | --- |
| Award | Winner |
| 1st Manufacturing Entity for Commitment to Customer Service Excellence | Cemex |
| 1st Small Business Entity for Commitment to Customer Service Excellence | Sarifa Insurance Brokers Ltd. |
 -END-
 Contact:     Ms. Kareen Cox, Marketing and Public Relations Manager        
Email:        kareenc@psoj.org                 
Tel:             927-6238 (Ext. 2052); Fax 978-2709