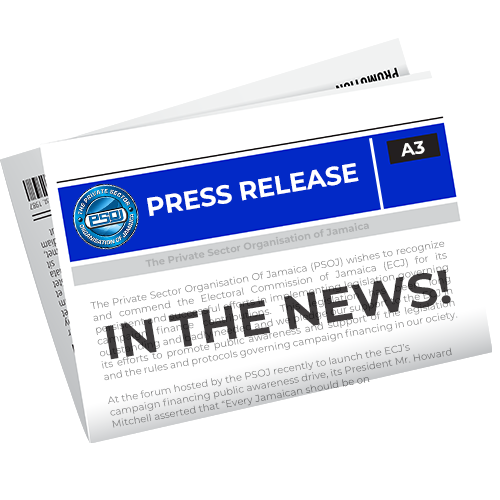 The Private Sector Organisation of Jamaica (PSOJ) welcomes the specific initiatives geared toward digitization, financial inclusion, support to our MSMEs and key industries such as agriculture, manufacturing, and export, announced in the recent budget presentation by the Hon. Nigel Clarke, Minister of Finance. We also recognise the continued medium-term attention to fiscal balance notwithstanding the significant short term adverse budget impact from the COVID19 pandemic.
Economic Recovery and Social Support  
The budget was crafted to stimulate economic recovery and provide social support while maintaining fiscal responsibility in one of our most difficult times as a country.
Social Support an Imperative
In this regard, the PSOJ supports the continuation of the CARE Programme 'Set Cash' to assist those unemployed from all sectors and continuation of support of our vulnerable population through social safety net programmes.
Public Health and Vaccination Expenditure a Pillar in Recovery
Another key announcement is the support to Public Health and vaccination programme. This is indeed one of the most critical and immediate areas for economic recovery. With the high positivity rates lives and business continuity are at risk and we are therefore grateful that this has been prioritized.
Focal Areas of Support 
Generally, the initiatives announced by Minister Clarke were targeted in the areas of Digitization of the Economy, initiatives to stimulate MSMEs, increased capital expenditure to stimulate jobs and  reforms to drive exports.
Key Initiatives to Note
MSME reforms and financing
$2B equity funds and $2B lending for MSMEs

Reforms

Removal of Customs Administrative Fee on exports at a de minimis value of US$500
Digitization and Financial Inclusion Initiatives
The funding of NIDS

The expansion of broadband and WiFi 

Implementation of a Digital Currency
We recognize that it is important for the private sector to utilize these benefits to drive productivity and growth and once they are on stream, the PSOJ will encourage our members to avail themselves of the various initiatives such as:   $1B to facilitate 2% loan on borrowing amount of 800,000 for digitization of firms.
Capital Expenditure is Growth Enhancing 
The announced capital expenditure on infrastructure projects of close to $50b is important to drive jobs and economic activity and provide much needed support to critical areas such as education, security and the real sectors.
Investor Friendly Reforms
Jamaica's attractiveness as an investor friendly market should improve with the review of costs of Relocation of Corporate Entities from other Jurisdictions and the Large Scale and Pioneer Industry Act to stimulate investment as well as the finalization of the new Customs Act which will improve the trade facilitation landscape and drive efficiencies that will see improvements for cross border trade and most importantly exports.
Next Steps
All Jamaicans – government, policymakers, business owners, employees and the general populace must be cognizant of the fact that this spend is possible through the one-off policy dividend from the Bank of Jamaica (BoJ). As such, we must all dig deep to ensure the swift implementation of the proposed measures and that the private sector makes the investments to start, grow and enhance their businesses to ensure economic recovery and growth is realized as soon as possible.
– END –