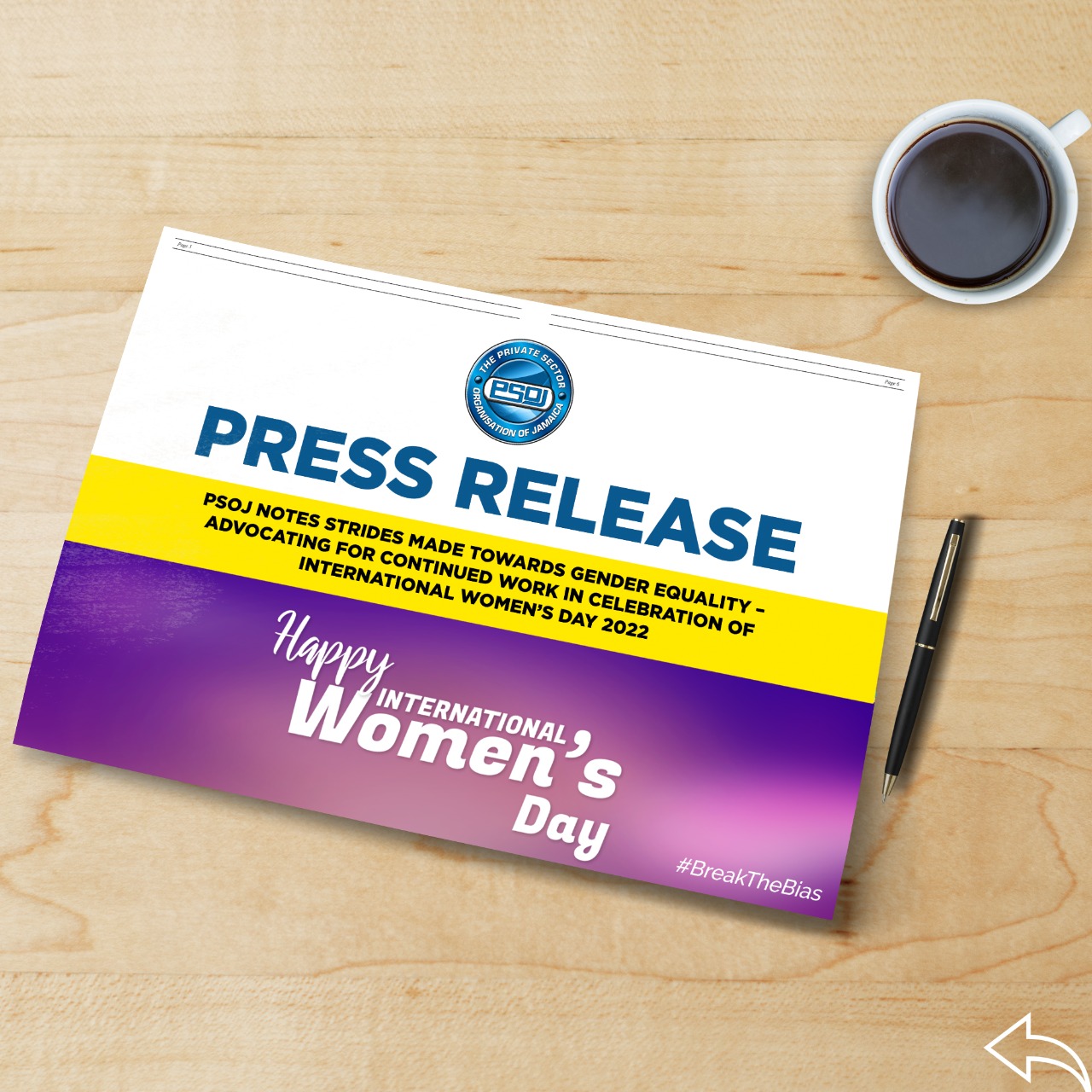 The Private Sector Organisation Of Jamaica (PSOJ) is pleased to join in the celebration of International Women's Day 2022 under the theme: Break The Bias.
We are cognizant of critical strides that have been made in Jamaica as we work toward creating equal opportunities for our women and men to attain their highest potential, while contributing to the growth and development of our country.
The PSOJ's involvement in the amendment and passage of pieces of legislation that impact women's ability to perform effectively in the workplace remains a key priority.
We note for example, the significant work done through our Human Capital Development Committee in contributing to the amendment and subsequent passage of The Sexual Harassment Bill which no doubt has put in place necessary parameters to enable a safe and productive space for employees, while addressing issues that were disproportionately impacting women in the workplace. We commend Minister of Gender, Entertainment and Sport, Hon. Olivia Grange in piloting this legislation through the Houses of Parliament.
We further applaud the work done so far by Minister of Finance and the Public Service Dr Nigel Clarke in enforcing the legislative requirement for a minimum of 30 per cent of either men or women on government boards through amendment of the Public Bodies Management and Accountability Act. This is a positive step in addressing the notable gap in the representation of women on boards. Through the continued work of the PSOJ's Corporate Governance Committee, we believe that this legal requirement aligns Jamaica with international corporate governance best practices.
We use this opportunity to encourage qualified, competent women to avail themselves to serve on our public boards as we seek to maintain efficiency and productivity across all boards.
With Jamaica being a signatory to the United Nation's Sustainable Development Goals, there is more work to be done in meeting SDG 5 – "Achieve gender equality and empower all women and girls."
UN Women highlights research that shows gains of up to US$28 trillion to the global GDP if we close the gender gap in the areas of labour force participation, hours worked, sector mix of employment participation and better distributing the unpaid care labour.
The private sector, therefore, remains aware of its responsibility in advancing gender equality through the implementation of policies that directly address issues impacting women. As such we continue to urge companies to implement family paid parental leave, greater support for women-led businesses in the supply chain as well as unlocking capital to have female businesses thrive.
Global reports point to the need for sustained attention in minimising the gender pay gap in workplaces along with ensuring our women and girls are prepared for the jobs of tomorrow through adequate access to STEM education and job opportunities.
The PSOJ uses this opportunity to applaud all our women leaders and business owners who've continued to display incredible resilience particularly during the global pandemic in keeping businesses afloat. As with many sectors, the pandemic would've further highlighted the significant gaps to be addressed as we work towards building a diverse and inclusive workforce to meet the country's development goals.
We salute our women, this International Women's Day, and pledge our continued support in advocating for and developing policies that foster gender equality.