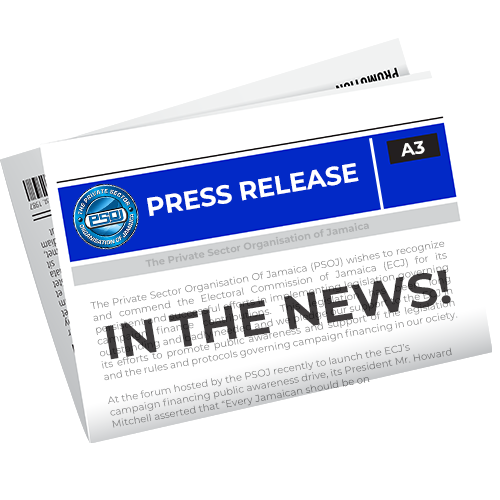 PSOJ TO PARTNER WITH OCA, UNICEF TO LAUNCH CHILDREN'S HELPLINE
27 October 2020: The Private Sector Organisation of Jamaica (PSOJ) is spearheading a multi-sectoral initiative to offer a 24-hour helpline for children who are affected by COVID-19. The helpline is intended to assist children who may be facing increased vulnerabilities and feeling overwhelmed with adapting to the changes caused by the pandemic, and who need a dedicated outlet to confidentially express themselves.
Through a Memorandum of Understanding signed recently, the PSOJ has forged a partnership with the Office of the Children's Advocate (OCA) and the United Nations Children's Fund (UNICEF) Jamaica Country Office to implement the helpline, which will be staffed by psychologists and guidance counsellors.
The 24/7 toll free helpline will be officially launched in early 2021. It will provide a safe space for persons who are under age eighteen (the legal definition of a child) – to talk with trained personnel via telephone calls, SMS text messages, email, WhatsApp and other social media platforms. The recruitment of personnel to resource the helpline will begin in November 2020. Additionally, members of the private sector and civil society are being encouraged to support the helpline to bolster its reach and impact.
Mariame McIntosh Robinson, PSOJ Vice President with responsibility for Human Capital Development, advised the reason for the initiative, "The sudden disruption of normal activities has been challenging for many of our nation's children. Some of them are experiencing anxiety; frustration associated with adapting to the new learning medium of a screen; withdrawal from their peers; as well as in some instances, heightened probability of abuse."
She continued, "While we recognise that a helpline will not solve all problems, it will signal to children and the nation that they are not alone and can reach out confidentially for help with resolving issues."
Mrs. Diahann Gordon Harrison, Children's Advocate, expressed her pride with the partnership. "The establishment of this toll-free national child helpline will serve as an innovative and necessary addition to the arsenal of tools that are available to support children. The OCA is pleased to partner with the PSOJ and UNICEF on this initiative and look forward to achieving overall positive outcomes for children with a focus on empowering them and improving their safety and psycho-social well-being."
"UNICEF is very pleased to partner on this initiative as part of our commitment to support the most vulnerable children and their families for the COVID-19 response," said Mariko Kagoshima, UNICEF Jamaica's Country Representative. "We also invite the corporate sector, whether large, medium or small businesses, to leverage their resources and come on board with us."
The helpline will be operational for an initial period of eighteen (18) months, with the intention of extending it for incremental periods that are to be decided upon by a Monitoring & Evaluation Governance Steering Committee established by the PSOJ, OCA and UNICEF; and further over time, eventually transitioned to the Government of Jamaica.
– END –