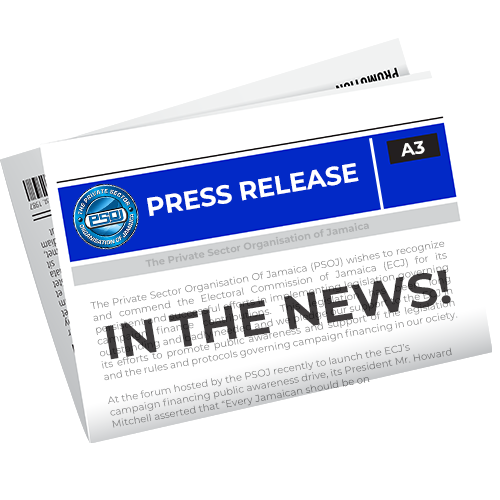 April 14, 2019
Kingston, Jamaica:
The undersigned private sector organizations have noted and respectfully accept the recent unanimous ruling of the constitutional court that the national identification and registration (nids) act is unconstitutional and therefore null and void.
The private sector groups are of the considered opinion that, while the court has properly invalidated the particular legislation, the underlying broad policy objectives that were sought to be achieved are still of great significance and urgent import in modernizing our Jamaican society and ensuring that each citizen is accounted for in our advancement towards the achievement of vision 2030.
Accordingly, and as it appears that there is political consensus as to the necessity for implementing a national identification law, we strongly urge both political parties to immediately commence consultations, with a view to settling the contentious differences in the legislation and avoiding the provisions which offend our constitution, so as to return a bill to the house and enable a smooth and early passage.
We respectfully submit that this matter is obviously one which must surpass partisan considerations if the interest of all Jamaicans are to be served.
We call upon the leaders of both political parties to set aside the any temptation to continue to contest this subject in the sectarian political arena and act to ensure that Jamaica receives not only the full benefit of the financial support to implement the identification system, but the early and valuable improvements that effective legislation will bring to our citizens in their personal and business endeavours.
To the extent that we can be of any assistance whatsoever to assist in achieving the above objective, we place ourselves at the disposal of the respective leadership.
Jamaica is watching how this outcome will be managed by our political parties as the opportunity to set an example of mature and committed leadership should not be missed.
THE PRIVATE SECTOR ORGANIZATION OF JAMAICA
THE JAMAICA CHAMBER OF COMMERCE
THE JAMAICA MANUFACTURERS AND EXPORTERS ASSOCIATION
-END-
Contact:     Ms. Chloleen Daley-Muschett
Email:        chloleenm@psoj.org
Tel:             927-6238, Fax 978-2709