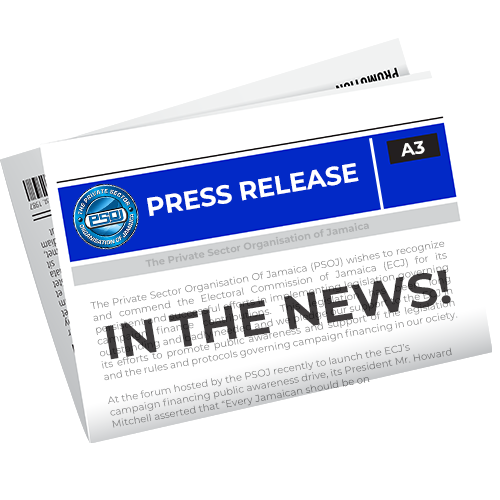 March 29, 2019
Kingston, Jamaica:
The Private Sector Organisation Of Jamaica (PSOJ) wishes to recognize and commend the Electoral Commission of Jamaica (ECJ) for its persistent and successful efforts in implementing legislation governing campaign finance contributions. This legislation has been long outstanding and badly needed and we pledge our support to the ECJ in its efforts to promote public awareness and support of the legislation and the rules and protocols governing campaign financing in our society.
At the forum hosted by the PSOJ recently to launch the ECJ's campaign financing public awareness drive, its President Mr. Howard Mitchell asserted that "Every Jamaican should be on the alert for breaches of this legislation because politicians are spending money donated in good faith in a manner contrary to its purpose"
The PSOJ also notes that under this legislation the ECJ has the authority to investigate campaign advertisements and to report breaches in that space to the broadcasting commission.
In this connection we wish to draw the attention of the ECJ and the Political Ombudsman to an advertisement appearing on social media for a political party which compounds the careless comments of a public official with a untruthful distortion of the facts of the divestment of a property in Bernard Lodge so as to give the impression that the investor in the property was in collusion with corrupt elements in the government to deprive farmers of their rights. The consequence of this careless behavior could be permanent damage to investor confidence in general and the endangerment of the personal security of the particular investor.
The PSOJ deplores this careless and scurrilous type of political campaigning and reiterates our calls for both political parties to cease and desist from gutter politics and mudslinging in the current contest for the East Portland constituency and all future elections. The people of Jamaica deserve and should demand leaders who are worthy of emulation.
We also call on the ECJ and the Political Ombudsman to redouble their efforts to contain this behavior and reiterate our support for them in preserving the integrity of our democracy and the progress of our nation.
-END-
Contact:     Ms. Chloleen Daley-Muschett
Email:        chloleenm@psoj.org
Tel:             927-6238, Fax 978-2709