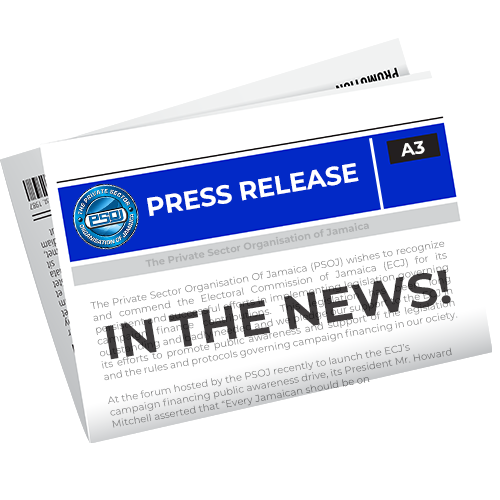 National Export-Import Bank of Jamaica (EXIM Bank) Limited is still on a high after being named the overall winner for the third annual Private Sector Organisation of Jamaica (PSOJ) and Ministry of Finance and Public Service (MOFPS) Public Bodies Corporate Governance Awards (PBCGA) held recently at the Jamaica Pegasus Hotel.
Dr. The Honourable Nigel Clarke – Minister of Finance and the Public Service served as the keynote speaker for the event. In a well-received speech, he touted the critical necessity of regulations for the Public Bodies Management and Accountability (Nomination, Selection and Appointment to Boards) 2019 affecting how organizations are governed going forward and the benefits this new approach will contribute to productivity, transparency and development.  He said, "Public bodies are performing a public role and as a result we have to ensure that we have governance that is commensurate with what you would expect from the main civil service. Public bodies don't belong to any of us and the opportunity to serve on a public body is not a right, neither is it an entitlement and neither is it a reward for anything. The opportunity to serve on the board of a public body is a public service and is a duty and is a responsibility that has to be discharged."
Chairman of the PSOJ Corporate Governance Committee Greta Bogues in her address to the gathering stated: "We have seen marked improvements in all areas that we have evaluated and so, on behalf of the panel, I would like to congratulate all public bodies that entered the competition on embracing governance best practices. This augurs well for the recent regulations tabled by the Minister in Parliament on the nomination, selection and appointment of directors for public bodies. We strongly support these regulations which will significantly change the strategic leadership of public bodies while providing for some board membership continuity, even when governments and or Ministers may change…..and the PSOJ Corporate Governance Committee stands ready to continue assisting with its implementation once passed.
Minister Desmond McKenzie – Minister of Local Government and Community Development and the team from National Solid Waste Management Authority were in a particularly celebratory mood as they were awarded the Special Recognition Certificate for their marked improvement in implementing good governance principles.
Other winners include:
Category: Board Composition, Function and Structure
Winner: Jamaica Deposit Insurance Corporation (JDIC)
Category: Corporate Governance Policies, Procedures & Practices
Winner: Factories Corporation of Jamaica
Category: Compliance and Disclosure of Information
Winner: Exim Bank Ltd.
Category: Risk Measurement, Management & Internal Controls
Winner: Development Bank of Jamaica Ltd.
Category: Best Annual Report
Winner: National Health Fund (NHF)
Category: Best Website
Winner: Factories Corporation of Jamaica
Category: MOST IMPROVED PUBLIC BODY
Winner: Jamaica Mortgage Bank
OVERALL WINNER- Exim Bank Ltd.
The Public Bodies Corporate Governance Award was created to ensure the continued development of good corporate governance practices for private and public bodies, including statutory bodies, regulatory bodies, commissions and government owned companies.