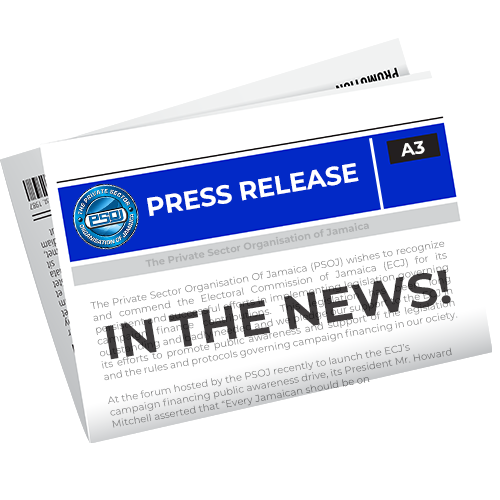 October 8, 2015
Kingston, Jamaica:
The Private Sector Organisation of Jamaica (PSOJ) notes the recent release of the 2015/16 Global Competitiveness Report by the World Economic Forum. The report confirms the position the PSOJ has continuously held, that while we have made progress under the current economic programme, there is still much more to be done if we are to create a truly competitive and business friendly environment, to encourage growth. The report points to the same factors espoused by the PSOJ as the main challenges inhibiting a competitive environment for growth.
The report shows that the country has made progress in the rankings from 2012/13, when out of 144 countries we ranked 97, and today we stand at 86 out of 140 countries surveyed. This is consistent with the improvements the PSOJ has been seeing in the environment, illustrated in the report by slight improvements in the:
Macroeconomic environment pillar; and
Innovation pillar.
Under the 6th pillar (Goods Market Efficiency), the ranking on the number of procedures to start a business shows us at 3 out of 140, moving from 32 of 144.
Despite the slight improvements in the business environment, there still however remain significant challenges, as described in the report. These are captured in the ranking of the most problematic factors for doing business, which show inefficient government bureaucracy, crime and theft, tax rates, and corruption accounting for 54.2% of the 16 most problematic factors.
The report speaks to areas the PSOJ has been emphasizing as requiring serious attention if we are to realize the growth numbers of three percent and above, that we need in order to achieve the 2030 vision. While it is necessary to address the fiscal and legislative issues, which we have been successfully doing under the economic programme, the fact is, by itself it is far from sufficient.
As a country we must now turn our attention seriously to addressing the areas of bureaucracy, indiscipline, and tax policy, and the problematic areas that are of greatest concern to creating a competitive economy. This is the only way to make Jamaica attractive for capital to invest and realize the growth we need to move the country forward.
 -END-

Contact:     Ms. Kareen Cox, Marketing & Public Relations Manager 
Email:        kareenc@psoj.org                 
Tel:             927-6238 (Ext. 2052); Fax 978-2709