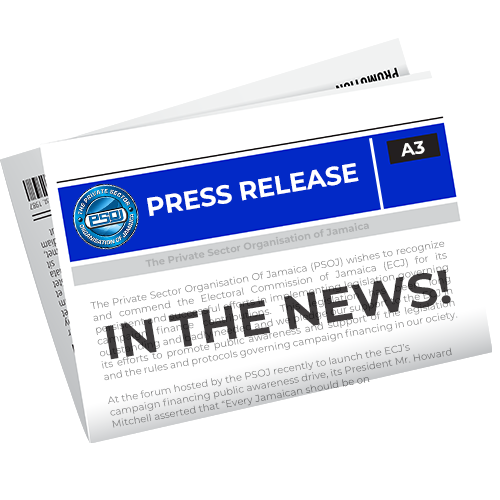 August 16, 2016
Kingston, Jamaica:
CEO of National Baking Company (NBC), Gary 'Butch' Hendrickson, will this year become the 24th inductee into the PSOJ's Private Sector Hall of Fame. The ceremony will take place on Wednesday, October 26, 2016 at the Jamaica Pegasus Hotel.
Widely regarded as a well-known and successful entrepreneur, Butch has guided National Baking Company on to a sustained path of profitability, where it is now the leading producer of innovative baking goods in Jamaica, contributing to the island's economic growth under three popular brands: National, HTB and HoMade. The company's export markets include the UK, USA, and Canada, as well as Caribbean islands such as Turks and Caicos, Antigua and Barbuda, St. Lucia and Grenada.
Hendrickson is equally known for his consistent efforts to give back to his country, particularly in the areas of small business development and education. Among his more popular initiatives are The Bold Ones of Manufacturing, where up-and-coming Jamaican small business owners are identified and supported in their marketing efforts. Established in 2010, some 34 companies have benefitted from this initiative, with NBC having spent over $200 million to date.
A Jamaican Made Christmas, another initiative launched in 2015, saw 25 SME manufacturers of Jamaican products being invited to participate in an expo free of cost. This event exposed these entrepreneurs to hundreds of potential customers.
Also in 2015, the NBC Foundation contributed over $300 million to educational projects including the Jamaica College Dormitory Project, UWI Special Projects, and the annual UTech Scholarship for Engineering Students.
The NBC Foundation is the major sponsor behind Crayons Count, the popular programme aimed at providing 3000 early childhood institutions islandwide with material for learning through play, at the start of each school year. More than $200 million has been provided to Crayons Count since its inception in 2012, and the Foundation is fully involved in importing, packing and distributing the learning materials and operating the mobile unit of Crayons Count, the Learning Lorry.
Hendrickson currently serves as a member of the Boards of Rainforest Seafoods and Bank of Jamaica, and has also served as a Director on the Board of the National Solid Waste Management Authority.
Commenting on this year's awardee, outgoing PSOJ President William Mahfood said, "Butch is someone whom I have known and worked with for a long time. More than just a business leader, I am impressed at how he consistently makes an effort to give back to our country and is always willing to help. He absolutely deserves this award and continues the line of distinguished awardees who have served Jamaica well," he continued.
Butch joins a list of 23 previous inductees, including last year's recipient, Earl Jarrett, CD, General Manager of Jamaica National.
Each year, since 1992, the PSOJ pays tribute to a private sector leader who has made innovative and sustained contributions to the development of the private sector over a minimum of 25 years, has demonstrated in-depth knowledge of the industry in which his/her company operates and demonstrates an unwavering commitment to the advancement of his/her industry and to national development.
-END-
 Contact:     Ms. Kareen Cox, Marketing and Public Relations Manager        
Email:        kareenc@psoj.org                 
Tel:             927-6238 (Ext. 2052); Fax 978-2709