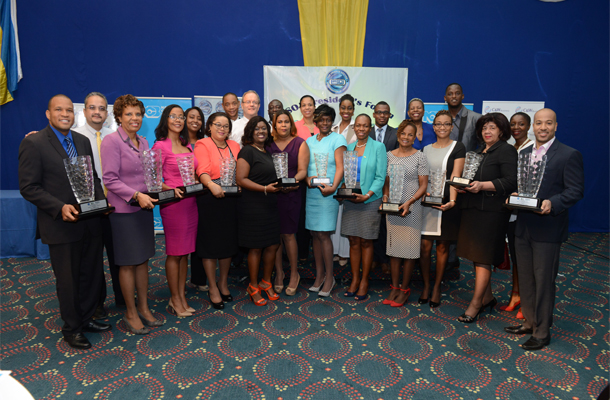 May 24, 2016
NCB & Scotiabank Tie for First Place in the Private Sector Service Excellence Awards
Kingston, Jamaica:
In a surprising twist, NCB and Scotiabank, Jamaica's top two commercial banks, were earlier today crowned the winners in the large business-to-consumer category at the 5th staging of the Private Sector Service Excellence Awards held at the Jamaica Pegasus Hotel. The awards were held in conjunction with the Jamaica Customer Service Association (JaCSA) during the PSOJ's bi-monthly President's Forum.
Other winners included JAMALCO, who won in the large business-to-business category, Massy Gas Products (GasPro) who won in the medium sized business category, and Sarifa Insurance Brokers who won in the small business category.
Category awards, sponsored by RUBIS Energy Jamaica, were also offered in the following areas:
Leadership and customer service strategy (Scotiabank)
Customer Service Charter and Standards (JAMALCO)
Training and capacity building (NCB)
The existence and effectiveness of monitoring and measurement systems (JPS)
Complaints management (Scotiabank)
The existence of mechanisms to reward and recognize the delivery of excellent service within the organization (NCB)
The use of international benchmarks (JAMALCO).
Meanwhile, the judges recognised the top 5 large companies deemed to be offering the best customer service as: First Global Bank, JAMALCO, JPS, NCB and Scotiabank.
PSOJ President William Mahfood, in congratulating the winners, reminded the gathering that Jamaica is replete with stories of terrible customer service and so where companies are found to be excelling in customer service, they must be recognised and celebrated.
JaCSA Board Director, Nsombi Jaja, in explaining the process of selecting the finalists, also urged the winners to share their respective approaches to customer service with other companies.
The Private Sector Service Excellence Awards' was launched in 2011 and is a joint initiative between the PSOJ and JaCSA. It recognises among the PSOJ and JaCSA membership, the best in class for Customer Service guided by stipulated criteria and categories for assessment. Winners were selected based on information provided by applicants as well as objective evidence collected on site visits.The award is open to PSOJ and JaCSA members only and applications are accepted in the categories of small, medium and large organisations.
                                                                 -END-
Contact:    Ms. Kareen Cox, Marketing and Public Relations Manager
Email:        kareenc@psoj.org
Tel:            927-6238 (Ext. 2052); Fax 978-2709