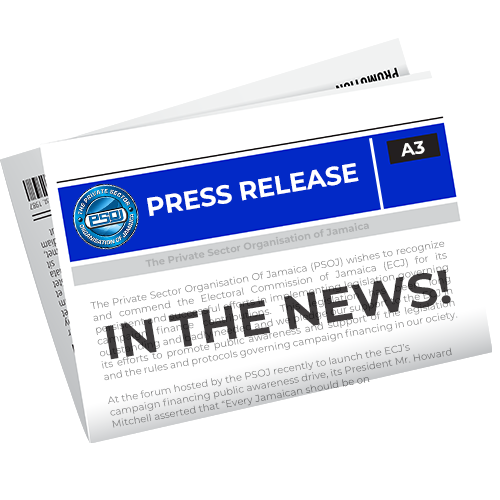 May 19, 2016
 PSOJ Highlights Concerns about New Tax Package
 Kingston, Jamaica:
The Private Sector Organisation of Jamaica (PSOJ) notes the recent tax measures announced in the budget estimates. We welcome the intent to move away from direct to indirect taxation, or consumption taxes, as this we believe will better address the compliance challenge we face, where only 326,000 of the 1.15 million working persons are on PAYE, while a significant number of registered companies are not tax compliant.
The PSOJ feels however that the tax package unfairly places a greater tax burden on approximately 12,000 already compliant PAYE workers, specifically persons earning over $6 million who will be taxed at a higher rate of 30%. This measure is a retrograde step which takes us back to before the 1980s tax reform and which was not effective when tried by the last administration. It will also result in tax avoidance measures, which will prove a distraction to the country's fiscal programme. The PSOJ suggests that this burden is reconsidered.
Finally, the PSOJ also notes the additional tax on fuel of $7 and SCT on LNG. While an indirect tax, this measure we feel, will have an inflationary impact which will further mitigate against the country's economic reform programme, in a climate where energy costs are already high, due in part to the presence of CET levied on fuel imports from only some sources, which allows other CET exempt sources to price unfairly to Jamaica. On this, the PSOJ is once again calling on the government to remove the CET on fuel imports or withdraw the recently announced SCT in favour of CET placed on fuel from CET-exempt sources.
The PSOJ again applauds the government's stated policy position to move away from direct taxation and stands ready to engage in further consultations on measures towards comprehensive tax reform for Jamaica.
 -END-
Contact:     Ms. Kareen Cox, Marketing & Public Relations Manager 
Email:        kareenc@psoj.org                 
Tel:             927-6238 (Ext. 2052); Fax 978-2709