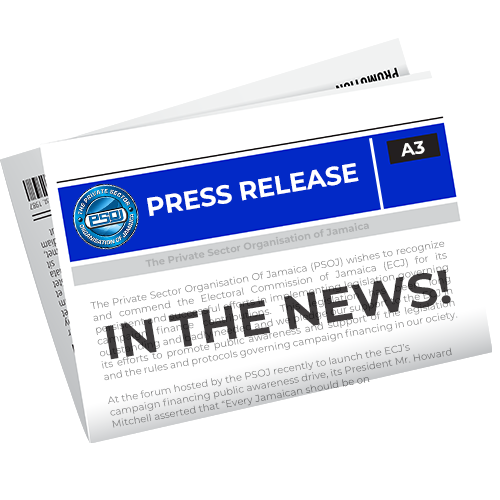 February 3, 2016
Private Sector Groups Review Petrojam's Pricing Mechanism
Kingston, Jamaica:
The Private Sector Organisation of Jamaica (PSOJ), the Jamaica Manufacturers' Association (JMA) and the Jamaica Chamber of Commerce (JCC) have for some time, been concerned about the slow pace of reduction in fuel prices at the pumps, in comparison to reduction in oil prices.  Over the past year, we have engaged Petrojam and have recently been provided the opportunity to jointly review the company's costing mechanism. We are generally satisfied, as the recent decreases since January 1, 2016, have been found to be close to the computed amount of where it should be.
However, we still believe that further reductions may be possible. Additional reductions are important for increased economic activity, as the decreases since January 1 should add close to $18 billion in the economy. This is a significant stimulus to consumer spending and business viability, and hence our continued follow up on this issue.
In analyzing the data, we recognize that a significant part of the price to consumers is taxes among other fees, for example, the Common External Tariff (CET) on oil and fuel imports from extra regional sources. We believe that the removal of the CET will have a positive effect on prices, and we await the final approval of CARICOM to effect this.
We are appreciative of the efforts of the Minister of Science, Technology, Energy and Mining, in advocating this position, as this is necessary to avoid significant cost leakages from the Jamaican economy and stimulate growth.
Additionally, our view is that the Government needs to move towards privatizing Petrojam as quickly as possible, for example through the stock market and by doing so, reduce the burden on government and improve the efficiencies of the operations.
We appreciate the openness with which Petrojam has shared with us, and we will continue to dialogue and work with them to ensure that there is continued understanding and transparency between both parties, that the best prices will always get to the consumer and ultimately improve the business climate.
-END-
Contact:     Dennis Chung
Email:        dennisc@psoj.org
Tel:             927-6238 (Ext. 2037)