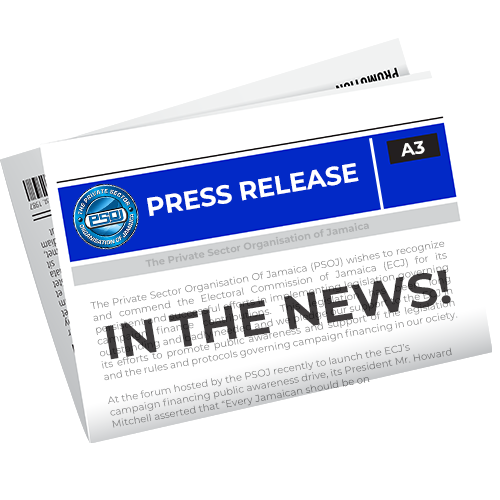 February 16, 2016
Kingston, Jamaica:
The Private Sector Organisation of Jamaica (PSOJ) on Friday, February 12, launched the first ever corporate governance code for MSMEs. Developed by the organisation's Corporate Governance Committee, the code is the first one in Jamaica and the entire Caribbean.
The objectives of the code are to:
Provide appropriate guidelines for MSMEs in the local market, consistent with international best practices;
Enhance MSME business governance systems;
Strengthen transparency, accountability and efficiency in MSMEs, and
Enhance investment opportunities.
This MSME code is the second one put forward by the PSOJ, with the first developed in 2006 primarily for financial institutions and updated in 2009 and 2015/16, and which has become the standard for corporate governance reference. The development of a code for MSMEs represents a further step in the evolution of corporate governance standards in Jamaica and cements the PSOJ's role as the national leader in corporate governance matters.
Speaking at the launch, PSOJ President William Mahfood, said, "the MSME sector has to play a critical role in our economic and social development. However, we cannot encourage MSMEs without providing the needed capacity to grow their businesses, and corporate governance is the foundation for sustaining a business and growing it from one stage to the next."
Minister of Investment, Industry and Commerce, Anthony Hylton, has endorsed the code, calling it "a major catalyst for the development and deepening of the formalized private sector, while supporting innovation, competitiveness, wealth creation and social stability in our country." He added that the code supports the government's efforts to adequately address the needs of the MSME sector.
The Development Bank of Jamaica (DBJ) was the major sponsor behind the development of the code, and Managing Director Milverton Reynolds, congratulated the PSOJ for recognizing the need for a specialized code for MSMEs.
The code has also been endorsed by the MSME Alliance, the Small Business Association of Jamaica (SBAJ), the Jamaica Business Development Corporation (JBDC) and the Jamaica Bankers Association.
  -END-
Contact:     Ms. Kareen Cox, Marketing & Public Relations Manager 
Email:        kareenc@psoj.org                 
Tel:             927-6238 (Ext. 2052); Fax 978-2709