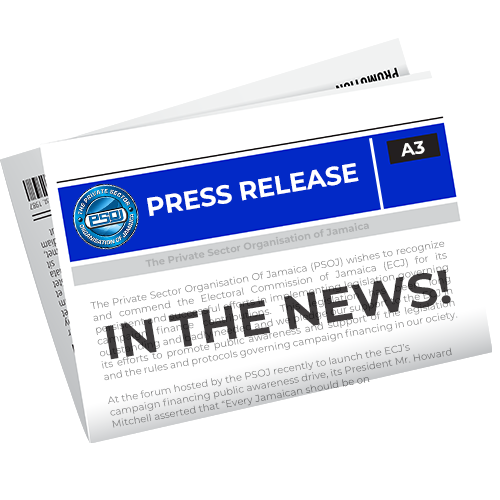 January 8, 2015
PSOJ Condemns Thefts Affecting the Telecommunications Industry
Kingston, Jamaica:
The Private Sector Organisation of Jamaica (PSOJ) is concerned about frequent reports of copper cable theft affecting the telecommunications industry
The organisation has been briefed on this issue by its members, including Digicel, Flow and LIME, and has seen where this illicit activity has caused disruption of vital communications services, threatening the viability of businesses and the very livelihood of self-employed persons who depend on the Utilities. Furthermore, these seemingly unabated incidents threaten public safety and pose serious national security concerns since affected communities would have been willfully cut off from vital emergency services.
The PSOJ is now of the view that tampering with phone lines should be deemed a serious crime, just as we condemn the stealing of electricity from JPS. The organisation is calling on the Government of Jamaica to implement legislation that will allow stiffer penalties for persons convicted of vandalizing or stealing telephone cables.
More pointedly, the PSOJ calls upon Minister of Investment, Industry and Commerce, Hon. Anthony Hylton to amend the existing Scrap Metal Regulations to aggressively sanction the recyclers and exporters who knowingly buy from copper thieves. We acknowledge the Minister's prior efforts to create order in the scrap metal export trade through tighter regulations and the imposition of restrictions on copper exports. However, the PSOJ is convinced that it is time for a fresh round of sanctions, supported by stronger administrative capacity to ensure stricter adherence.
If left unchecked, copper cable theft could have serious implications for Jamaica's improving perception as an attractive option for investors, especially the much touted logistics centre, since the reliability of a modern telecommunications infrastructure remains a key criterion for doing business.
PSOJ President William Mahfood says, "We cannot expect to attract substantial investments in a society where a company's assets is at risk of theft, which in many instances goes unpunished and doesn't seem to have an end in sight. We have already seen the significant damage that praedial larceny has done to the attractiveness of agriculture as an investment, and the losses sustained by JPS, which law abiding citizens have to carry."
The PSOJ looks forward to working with the Government and other key stakeholders to develop solutions to address this longstanding problem.
 -END-
Contact:     Ms. Kareen Cox, Marketing & Public Relations Manager 

Email:        kareenc@psoj.org                 
Tel:             927-6238 (Ext. 2052); Fax 978-2709