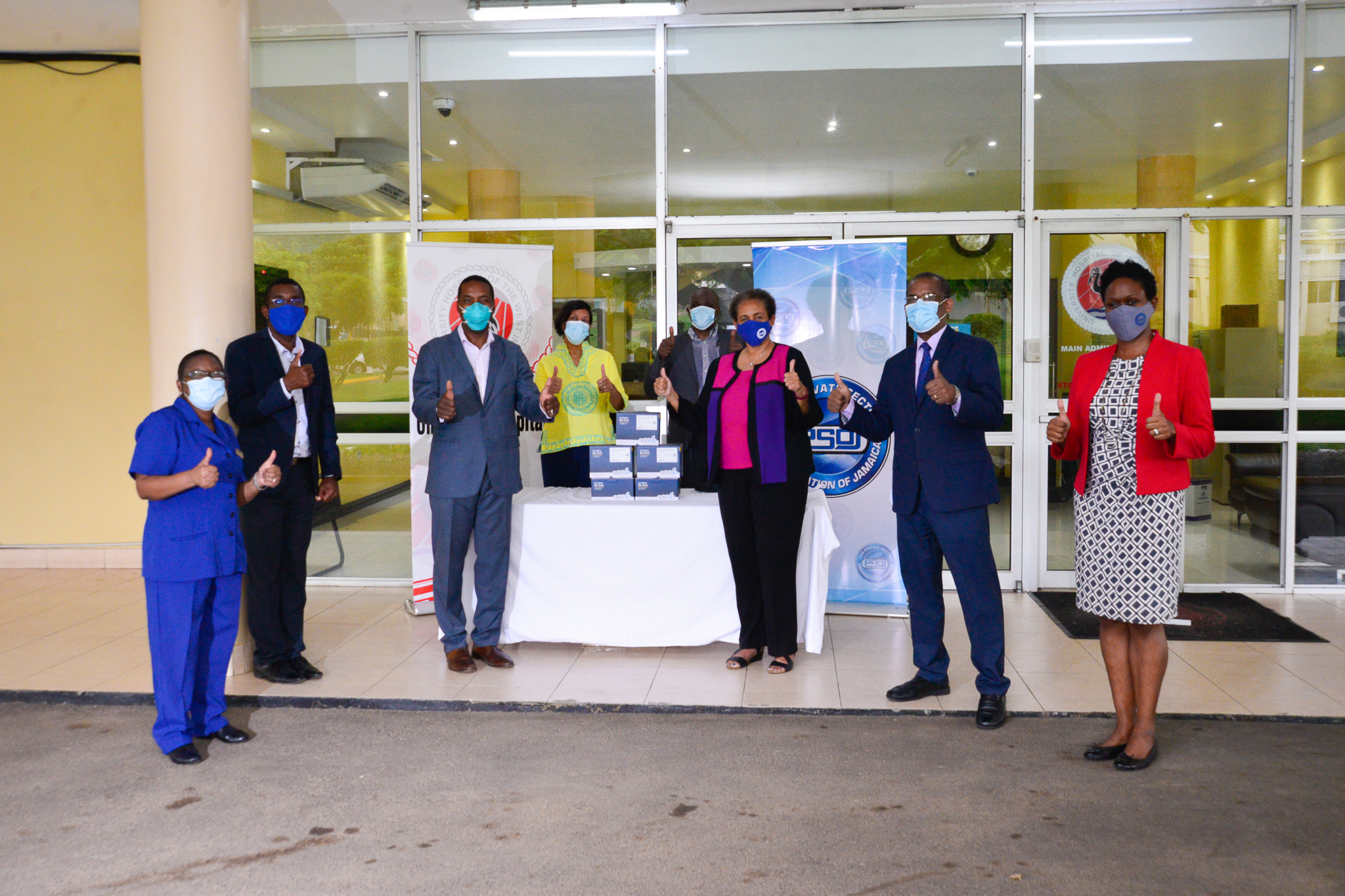 The Private Sector Organisation of Jamaica (PSOJ) recently handed over 500 PCR test kits to the University Hospital of the West Indies (UHWI) as part of its ongoing response to the COVID-19 pandemic. The kits are compatible with two diagnostic machines recently donated to the UHWI, by JPS major shareholder, East West Power Korea (EWP), which have increased the hospital's testing capacity by over 300%.
Members of the PSOJ across various industries donated over J$150 million in early April to support the health sector's COVID-19 response efforts. While these funds were originally earmarked for the purchase of ventilators to outfit hospitals island-wide, the PSOJ recognised that, with the increase in the number of COVID-19 cases locally there was also an urgent need for test kits.
"The situation regarding the ongoing pandemic fluctuates, and through constant dialogue with the Ministry of Health and Wellness we have recognised emerging needs," noted Interim CEO of the PSOJ Ms. Greta Bogues. She highlighted that the PSOJ has been flexible in working with the Ministry to invest in the purchase of equipment and other resources that will have the greatest impact, based on the most urgent requirements at the time.
Medical Chief of Staff at UHWI, Dr Carl Bruce, noted that PCR test kits are the "Gold Standard," with which other tests are compared.
"It's best to know the status of everyone," Dr Bruce pointed out. "This test kit is compatible with the machines that can produce results within six hours. This means that clinicians are able to make a decision much earlier, with the aim of starting treatment as early as possible when a positive case is detected." He stressed that at no time should the test kits be out of stock, adding: "This is actually the 'PCR Plus,' because it is so quick compared to the older PCR tests."
Vice President of the PSOJ, Mrs. Mariame McIntosh Robinson, warmly thanked all the private sector entities that have donated funds. This, she commented, has empowered the organisation to continue the pursuit of its overarching theme for the year: "Moving from advocacy to action."
Those entities that responded swiftly and generously in April included the NCB Financial Group, which contributed J$30 million; Sagicor Group Jamaica, which contributed J$20 million; and Jamaica Money Market Brokers (JMMB) and Scotiabank Jamaica each contributed J$15 million. The Sandals Foundation and the We Care Foundation together donated J$20 million.
Other donors included ICD Group, Jamaica Broilers, Restaurants of Jamaica, Jamaica Producers (JP) Group, Richard and Diana Stewart Foundation, GraceKennedy (GK) Group and Musson Jamaica Ltd and Seaboard Jamaica.
With the country now in the community spread phase of the pandemic, the PSOJ will continue to support the efforts to effectively respond to, manage and control the spread of the COVID-19 virus.