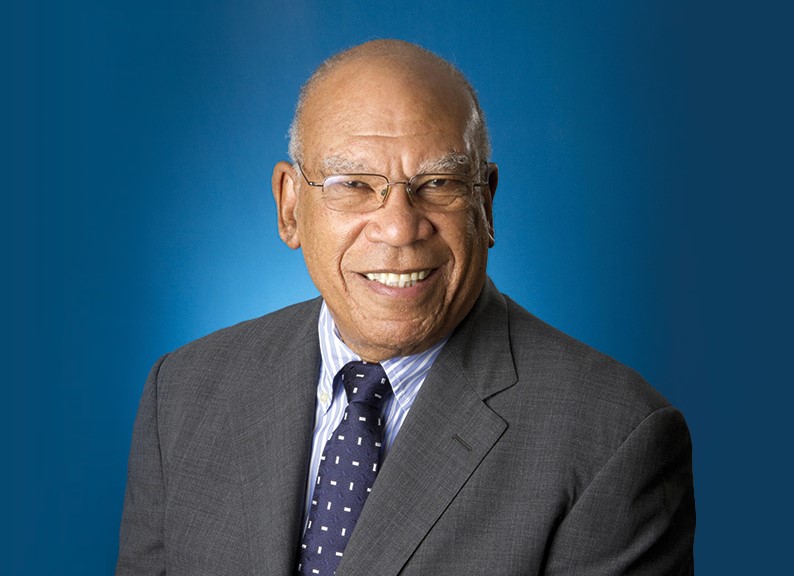 The Private Sector Organisation of Jamaica (PSOJ) expresses deep sadness at the passing of Dr Marshall Hall, CD, OJ and sends our condolences to his family, son Jeffrey Hall, former Vice President of The PSOJ along with friends and business associates.
Dr Hall was an astute businessman who served his country with distinction in both academia and business. His passion for the growth and innovation of Jamaica's banana industry has been exemplified throughout his 25 years as Group Managing Director of Jamaica Banana Producers Association Limited (now Jamaica Producers Group). He is accredited with spearheading the resuscitation of the banana industry in St. Mary and Jamaica after hurricane Allen in 1980 and again hurricane Gilbert in 1988. During his tenure as Group Managing Director, Dr Marshall made significant advances with the diversification of JP into the manufacturing industry and becoming the premier banana producer and exporter to the UK through a joint venture with the Government of Jamaica and Fyffes Plc.
His unwavering commitment to the development of Jamaica's private and public sectors is an exceptional legacy that has been etched in Jamaica's history. He has served on the boards of several corporations and as Director of Kingston Wharves Ltd, Executive Chairman of the Jamaica Public Service Company Ltd, Chairman of Jamaica Mutual Life, the National Development Bank and the Development Bank of Jamaica.
The PSOJ had the honour of recognising Dr Hall for his invaluable role as an outstanding business leader by recognising him as the 2004 PSOJ Hall Of Fame inductee. He was duly highlighted in his citation as "a Jamaican of whom Jamaicans can be justifiably proud."
Dr Hall distinguished himself as a remarkable intellectual with a tenacity for hard work. He extended his years of service to academia, having served as an academic economist and subsequently as Professor and Chairman of the Department of Management Studies (now the Mona School of Business) and Dean of the Faculty of Social Sciences at the University of the West Indies, Mona. His vast academic expertise has also extended beyond the shores of Jamaica, having served as Professor at the University of Wisconsin, Washington University and Makerere University in Uganda.
Jamaica has lost a true patriot who used his knowledge and expertise to further the nation's growth and development. Dr Hall will be dearly missed.