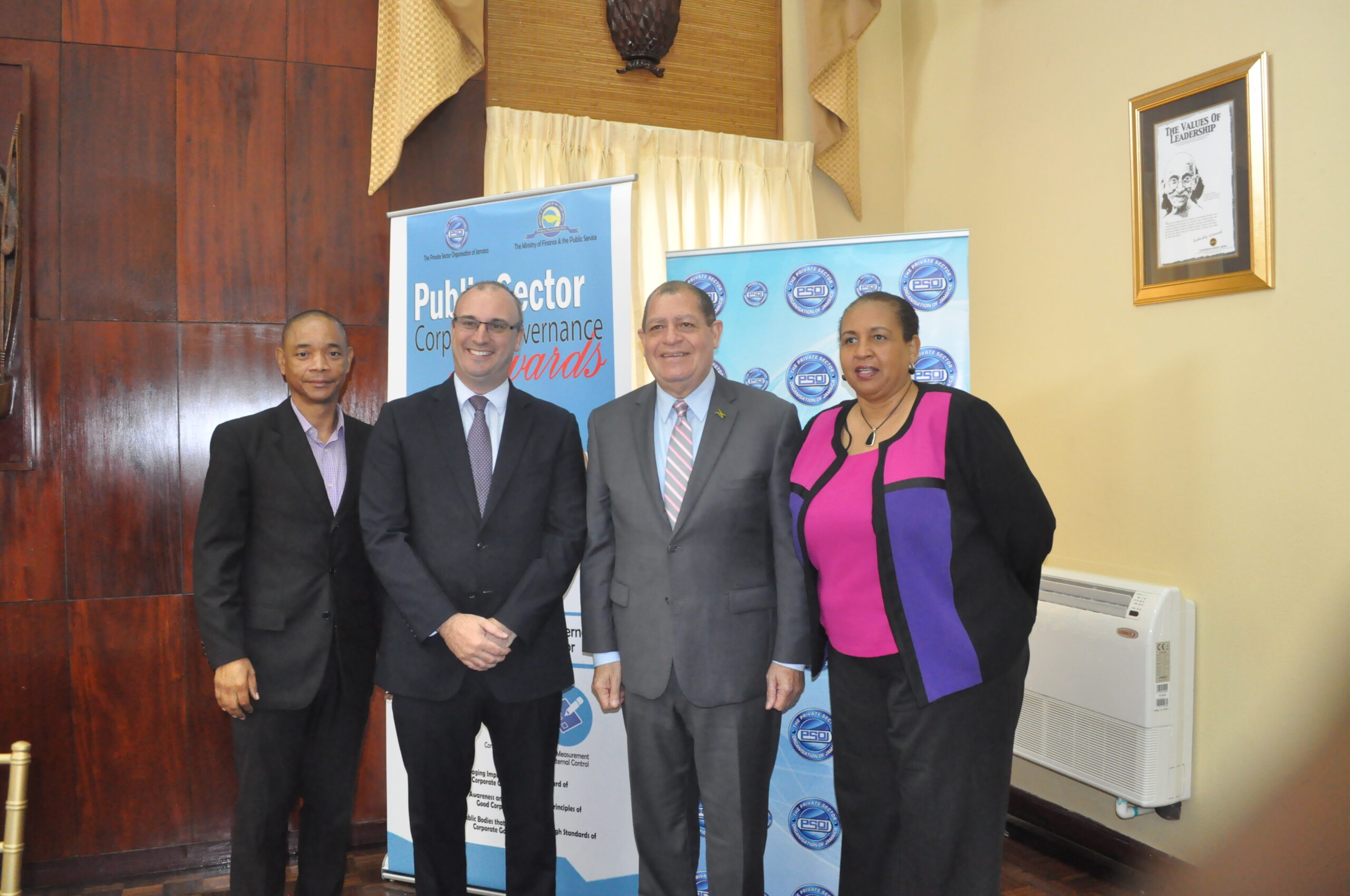 The Private Sector Organisation of Jamaica (PSOJ), in collaboration with the Ministry of Finance and the Public Service (MOFPS), launched the PSOJ Public Sector Corporate Governance Awards at Jamaica House on Wednesday, November 16, 2016.
The Public Sector Corporate Governance Awards is intended to promote awareness and adherence to the principles of good corporate governance, to encourage improvements in the standard of corporate governance disclosure and, importantly; to recognize public sector organizations that have established high standards of corporate governance best practices. It is expected that by rewarding these organizations,
other entities will be incentivized and as such will promote and maintain higher levels of effective governance within the public sector.
The PSOJ Public Sector Corporate Governance Awards will cover four (4) categories from which an overall winner will be selected.  The categories include:
Board Composition, Functions and Structure
Corporate Governance Policies Procedures and Practices
Compliance and Disclosure of Information
Risk Management and Internal Controls
In 2011 the  Public Sector Corporate Governance Framework was approved by Cabinet and is to support the corporate governance framework within which Public Bodies are required to operate. This framework  takes into account lessons learnt from the implementation of the Public Bodies Management and Accountability Act and government's perception of successful implementation of corporate governance models in other jurisdictions.
In his remarks at the launch, Minister Shaw said it is anticipated that the awards will promote effective corporate governance in order to increase public bodies' performance and enhance  public trust. He cited that  previously there was no formal established common approach or guidance in the public sector regarding matters such as governance standards and regular reporting on performance and stressed the importance of same.
"It is extremely important that all public sector organizations, implement and maintain good corporate governance practices which will encourage their corporate boards and management teams to strategically develop  a clear focus on performance, transparency and accountability," the Minister said.
The Minister also added that as the Government pursues a comprehensive programme of public-sector transformation and modernization, the broad goal is to achieve greater efficiency, and address concerns of poor performance and management, financial irresponsibility, and weak mechanisms for monitoring accountability in Government.
Meanwhile, Chair of the PSOJ Corporate Governance Committee, Ms. Greta Bogues, underscored the importance of recognizing those public bodies that have established high standards of corporate governance disclosure and practices.
The Awards are scheduled for November 2017 and will be applicable to those Public Bodies which are governed by the Public Bodies Management and Accountability Act (PBMAA) and the Corporate Governance Framework for Public Bodies (CGF).