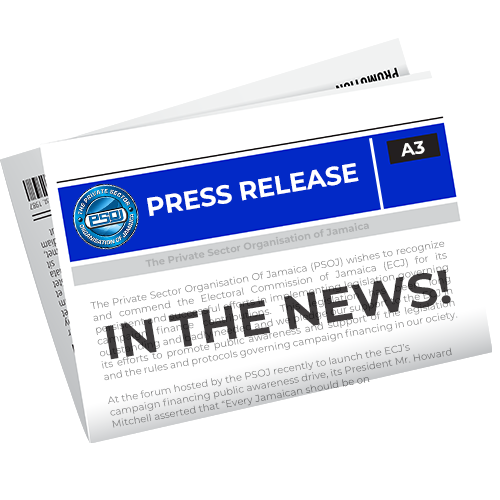 December 2, 2016
 Kingston, Jamaica:
The Private Sector Organisation of Jamaica (PSOJ) on Thursday, December 1, launched the  third edition of its  2016 Corporate Governance Main Code  This updated Corporate Governance Code produced by the PSOJ follows on  the first  published in 2006 and the second edition in 2009.
Miss Greta Bogues, Chair of the PSOJ Corporate Governance Committee explained the reason behind the need for another updated code. "Over the past six years we have seen significant changes in the global and local economic environment as the way investors have been assessing company's is constantly evolving. This has forced both public and private sector entities to sharpen their focus on governance issues including disclosure, risk, sustainability and information technology."
She further went on to explain that the PSOJ saw the need to continue its efforts to support the growth and development of its members by aligning the existing Corporate Governance Code with international best practices while taking into consideration our local environment business needs.
Minister of Industry, Commerce, Agriculture & Fisheries, Honorable Karl Samuda emphasized the importance of the 2016 Updated Corporate Governance Code. He stated that "The PSOJ's Corporate Governance Code is being launched in an environment of growing business confidence, and where there is firm commitment by both Government and Private Sector to laying the groundwork for sustained economic growth."
He went on further to note that his Ministry has direct responsibility for 35 Agencies and Departments which accounts for 35% of the country's GDP, and 50% of the labour force. As such, the 2016 Corporate Governance Code has an impact on growth and development including, "Increased access to external financing by firms, which can lead to greater investment, higher growth and greater employment creation."
Additionally, he outlined that the 2016 Code will also assist to lower the cost of capital, while making investments more attractive to investors which should ultimately lead to growth and more employment especially for MSME's.
The Code has also been lauded and endorsed by the Jamaica Stock Exchange and The Financial Services Commission.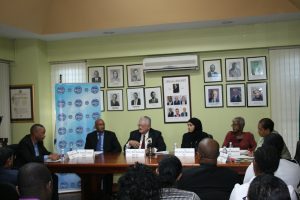 Listening keenly to Minister Karl Samuda
At the launch of the PSOJ 2016 Corporate Governance Main Code are (L-R) Dennis Chung, CEO, PSOJ, Dennis Chen, Vice- President, PSOJ, Amina Maknoon, Snr. Director of Investigations and Enforcement Division, FSC, Janet Morrison, Chair, JSE Corporate Governance Committee and Greta Bogues, Chair of PSOJ Corporate Governance Committee