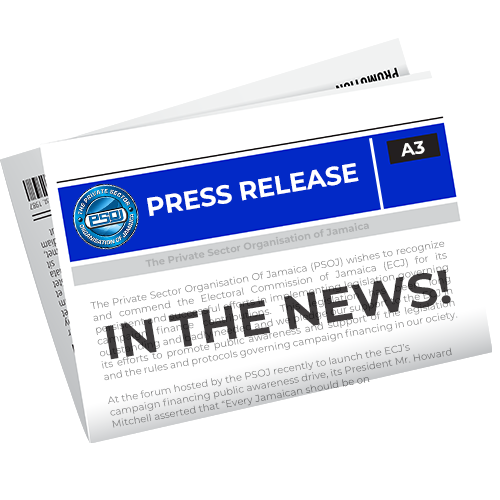 Kingston, Jamaica:
The Private Sector Organisation of Jamaica (PSOJ) is concerned with the proposed amendment to the Banking Services Act, which seeks to regulate price setting in banks and views this as a retrograde step where the state once again will return to pricing controls. In particular, the proposed "minimum service package" proposed, seeks to place the power to set fees in the "hands of parliament", through section 4 (8), and In the twelfth schedule details how fees and transactions are to be determined, which will have the impact of removing the competitive distinction from the market and make it less efficient.
While we are very aware of the public outcry against the cost of banking services in Jamaica, we view the attempt to deal with the matter in this amendment as misguided and contrary to the recent confidence we have seen under the Economic programme, which has been primarily led by fiscal and legislative changes to promote greater market participation. The PSOJ has always been of the view that economic and social development must be underpinned by efficient and competitive markets, and that our stagnation over the past 40 years is directly as a result of markets not being allowed to be efficient. Our view is that what is needed at this time is deregulation of capital markets, thus allowing a deepening of capital availability and participation, which in turn will allow for greater competitiveness and employment.
Paul Scott, PSOJ President, states that "the only way for the Jamaican economy to grow sustainably from decades of stagnation is to create an efficient capital market, and make capital available for expansion and investment, through deregulation, not by further trying to regulate a market already suffering and paying the price of overregulation."
He further stated that "If we were to react in this manner, then it would be no different than our response to the 1990s financial crisis, which resulted in overregulation thereafter and moved capital out of the hands of local investors in preference to foreign investments."
We view the current uncompetitive climate as directly linked to a failing of fiscal policy to create an environment that benefits the end consumer and fear that this proposed amendment will only serve to reduce confidence and bring about greater long term pressures on the final consumer.
The PSOJ therefore calls upon the authorities to immediately engage in discussions with the private sector, and banking community find a win-win solution and not seek to further regulate a market that has been suffering from overregulation.
-END-
Contact:     Ms. Amanda Dyer, Marketing & Public Relations Manager       
Email:        amandad@psoj.org              
Tel:             927-6238 (Ext. 2052); Fax 978-2709