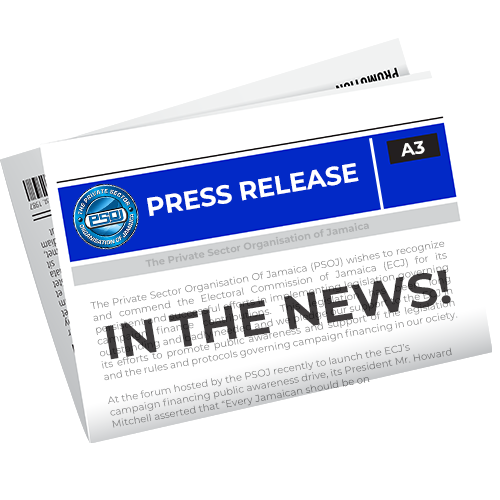 February 16, 2017
Kingston, Jamaica:
The Private Sector Organisation of Jamaica (PSOJ), wishes to thank both Mr. Richard Byles, past Co-Chair of the Economic Policy Oversight Committee (EPOC), and Dr. Vincent Lawrence, past Chair of the Electricity Sector Enterprise Team (ESET) for their invaluable contribution to the economic and energy sectors.
EPOC has become a well-recognized institution globally and is now being touted as an example for any country that is serious about economic reform. This is a significant accomplishment which owes its success in many respects to Mr. Byles' determination and business acumen. As a member of the PSOJ, the organisation is extremely proud of the contribution Mr. Byles has made and we look forward to working with him as we continue to advocate for improved economic and social practices in Jamaica.
Dr. Lawrence's understanding of the energy sector aided significantly with the recommendations and decisions taken to assist the country with not only finding the right energy solutions, but ensuring the timely implementation. His diligence and professional approach to this task made the difference in ensuring that one of Jamaica's biggest challenges, which we have been grappling with for a long time, was successfully dealt with.
The PSOJ looks forward to the continued success of both the EPOC and ESET committees as they strive towards achieving Vision 2030 for Jamaica.
-END-
Contact:     Ms. Amanda Dyer, Marketing and Public Relations Manager    
Email:        amandad@psoj.org              
Tel:             927-6238 (Ext. 2052); Fax 978-2709