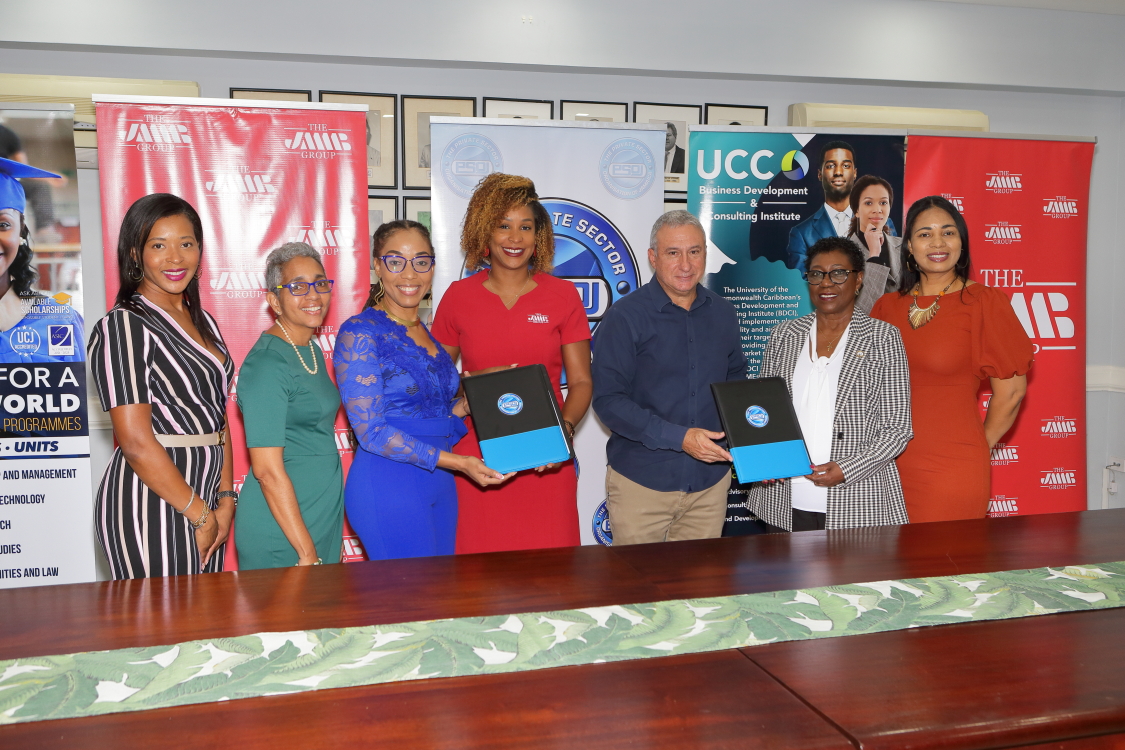 PSOJ Partners with JMMB Group and University of the Commonwealth Caribbean to Launch SME Resource Hub
The Private Sector Organisation Of Jamaica (PSOJ), is pleased to announce the launch of the PSOJ Small and Medium-Sized Enterprises Resource Hub (PSOJ SME Resource Hub), in collaboration with JMMB Group SME Resource Centre and the University of the Commonwealth Caribbean (UCC). The signing of Memorandums of Understanding (MoUs), which took place recently, solidified the partnership for this innovative initiative.
The PSOJ recognises the pivotal role of small and medium-sized enterprises (SMEs) in driving economic growth, job creation, and innovation in Jamaica. Therefore, establishing the SME Resource Hub became a necessary and proactive measure to support our SME members. The hub's primary aim is to address the challenges SMEs face and provide comprehensive support and resources to help them thrive in today's dynamic business environment.
The PSOJ SME Resource Hub will offer a wide array of services designed to empower and strengthen SME members. These services include:
Efficient access to essential business development tools
Mentorship programmes
Financing options
Networking opportunities
Training workshops
The objective is to enhance the competitiveness and sustainability of SMEs, ultimately contributing to the country's overall economic development.
 "The launch of the PSOJ SME Resource Hub is a testament to our commitment to supporting SMEs in Jamaica. Through strategic partnerships with JMMB Group and the UCC, we aim to provide our SME members with the necessary resources and knowledge to overcome challenges and capitalise on opportunities, thus driving their success and contributing to the growth of the Jamaican economy." – PSOJ President, Metry Seaga
Through this partnership, JMMB Group SME Resource Centre has demonstrated unwavering support to the SME sector and will offer business owners expert advisory services and discounted consultancy, through JMMB Group's ecosystem. These services will address some of the challenges faced and help to identify opportunities and optimise their operations.
"With the right support and partnership, more SMEs will be positioned to become more structured businesses and eventually household names locally and globally. This partnership, therefore, seeks to assist these businesses to scale and grow through the provision of financial partnership, resources, innovative financial solutions and a network of partners providing the necessary tools, financial solutions and expertise to better compete in a global environment." – Shani Duncan Falconer, Senior Corporate Manager, JMMB SME Resource Center
This latest move is in keeping with JMMB Group's strategic thrust towards building out its focus on small and medium-sized enterprises (SMEs), by adding value to its SME clients and addressing the gaps that currently exist in the financial sector.
The UCC Business Development & Consulting Institute (BDCI) is equally enthusiastic about its role in this collaborative effort.
UCC BDCI will offer various services, including e-commerce, record keeping and accounting, research and development, training, and capacity building.
"This partnership with the PSOJ Small and Medium Enterprise Resource Hub reflects the UCC BDCI's commitment to nurturing a robust private sector that drives economic prosperity in Jamaica. We aim to provide unparalleled support to entrepreneurs and businesses, fostering an environment conducive to innovation and growth." – Tennille Howell-Hussey, Manager, UCC BDCI
The PSOJ SME Resource Hub is set to become a significant milestone in supporting SMEs in Jamaica. By offering tailored business development support, facilitating knowledge sharing, providing access to funding and financing, and fostering collaboration and networking, the hub aims to be a one-stop resource centre that equips SMEs with the necessary tools to succeed in their entrepreneurial journey.
-END-