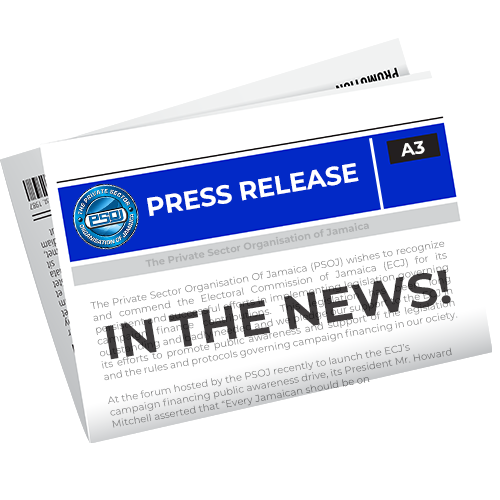 Kingston, Jamaica:
The Private Sector Organisation of Jamaica (PSOJ) has until now refrained from public comment on the report of the former Contractor General on the handling by the Government of the sale of a beachfront property in St. Ann.
In light of the welcome but inexplicably late press conference held by the Integrity Commission many of the issues which the PSOJ wanted clarity on before taking a position have been clarified and need no further query.
We therefore accept the Integrity Commission's explanation regarding its relationship with the former Contractor General and expect that his tenure with the Commission will no longer be uncertain.
It further appears that the Commission is satisfied that there has been no criminal wrongdoing in the matter and that is also welcome news as the country has had enough of scandal and corruption.However, it seems that either out of a sense of zeal or youthful exuberance our Minister Of Economic Growth And Job Creation has in his haste trampled on governance protocol and ignored the statutory mandate of the UDC board to execute state policy.
The state is entirely within its right to vary its policy on divestment but the reasons for such variance must be made clear at the time of the variance and the statutory board with responsibility for the assets of the country must conduct the transaction in the terms of that varied policy or act in accordance with its conscience and resign if it disagrees.
The consequence of this is the widening of the already vast trust deficit existing in civil society and to leave room for the fertile Jamaican rumor shop to go to work.
A simple act of transparent communication at the time of the conclusion of the transaction could have avoided the aggravation of our national cynicism.
The President of the PSOJ, Mr. Howard Mitchell again calls on the Government to improve its governance and the transparency of its processes so as to accelerate the growth that the Economic Growth Council has been seeking for the past three years.
-END-
Contact:  Ms. Chloleen Daley-Muschett
Email: chloleenm@psoj.org          
Tel:  927-6238 (Ext. 2052); Fax 978-2709