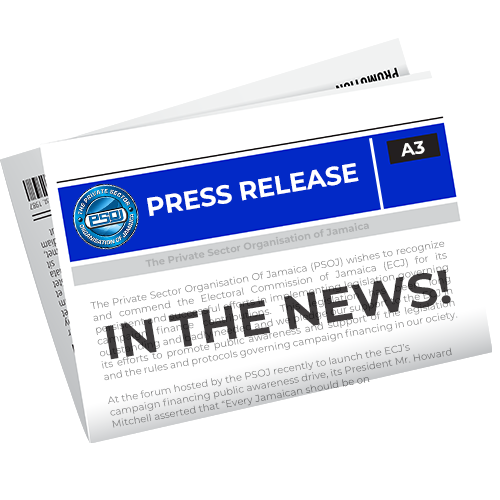 July 15, 2016
 Kingston, Jamaica:
The Private Sector Organisation of Jamaica (PSOJ) notes with great concern, the report on the front page of both the Jamaica Observer and the Gleaner newspapers, on Thursday July 14th 2016, about the financial challenges being faced by the Office of the Contractor General (OCG). The PSOJ is urging the Government and Parliament to urgently address this situation by providing adequate funding for the OCG, to properly execute its very important function.
According to PSOJ president William Mahfood, "the government must ensure that bodies such as the OCG, INDECOM and the Public Defender are always adequately funded." He further noted that failure to properly fund these organizations compromise the rights of citizens and the accountability of those charged with managing public funds." Mahfood went on to say that "Parliament had a moral responsibility to adequately fund these offices, especially since any delay can be construed as the government trying to deliberately restrict the activities of the OCG and other bodies which are to hold them accountable. "The PSOJ notes that because of this inadequate funding, the OCG can only review ten percent of government contracts.
We are confident that it could never be the intention of Parliament to restrict the operations of the OCG and call on them to immediately rectify this situation, so that Jamaica can be assured of transparency and accountability in public sector spending.
 -END-
 Contact:     Ms. Kareen Cox, Marketing and Public Relations Manager        
Email:        kareenc@psoj.org                 
Tel:             927-6238 (Ext. 2052); Fax 978-2709