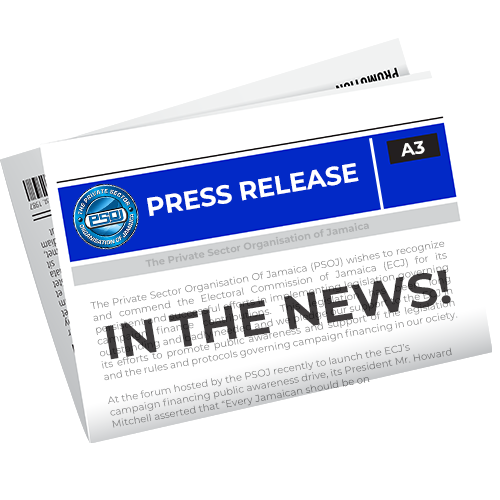 September 15, 2016
 Kingston, Jamaica:
The Private Sector Organisation of Jamaica (PSOJ) welcomes the report by the Economic Growth Council (EGC), as one that outlines what is needed to generate much needed growth in the Jamaican economy.
The PSOJ is particularly pleased that the Growth Initiatives focus on improving the business environment generally, and are not focused on any specific sector as the saviour for Jamaica's economy, which has been done in numerous past reports. We have always maintained the position that the best impetus for economic development is to create a facilitative environment for capital to invest, which of course must have at its base a safe and secure environs, and limit the amount of bureaucratic impediments that has made it difficult to do business in Jamaica.
Paul Scott, PSOJ President stated that, "if Jamaica is to truly see economic and social development, then we must focus policy on creating an environment that is friendly towards capital and the protection of the Jamaican citizen. That environment must be predictable so that anyone who wants to transact business in Jamaica must have the same pleasant experience. This means that the market must pick winners, not government policy." Mr. Scott went on to congratulate the EGC, led by Michael Lee Chin, on the excellent recommendations made and "…urge the government and all well thinking Jamaicans to fully support the Growth Initiatives as this may be the last chance to get it right for the foreseeable future."
The PSOJ fully supports the implementation of these recommendations and stands ready to assist where possible.
-END-
Contact:     Ms. Kareen Cox, Marketing & Public Relations Manager 
Email:        kareenc@psoj.org                 
Tel:             927-6238 (Ext. 2052); Fax 978-2709