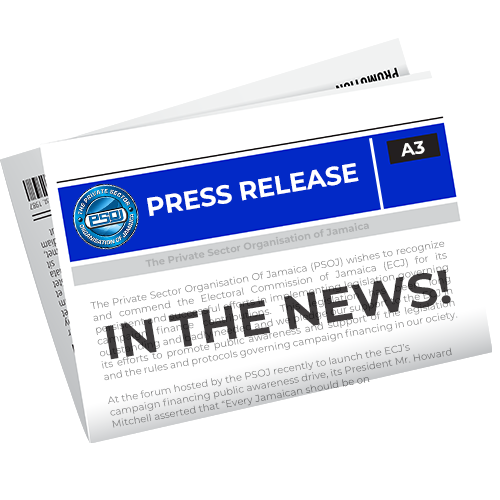 Kingston, Jamaica:
Sagicor Group's Chairman, Mr. Richard Owen Byles, will soon become the 25th inductee in the Private Sector Organisation of Jamaica's (PSOJ) Private Sector Hall of Fame.
Mr. Byles who is lauded as one of Jamaica's transformational private sector leaders, has had a long and illustrious impact on the development of the private sector and the streamlining of public policy to support private and public sector efficiency.
The PSOJ notes proudly, its first-hand experience with the decisive and results oriented leadership of Richard Byles who during the periods 1997 – 1999 served as the PSOJ's Honorary Secretary, and 2000 – 2001 as the PSOJ's Vice President. Throughout his years of direct service to the PSOJ, Mr. Byles has been one of the unifying voices advocating strongly, in support of private sector policies that would fuel the necessary conditions for the growth and economic development of Jamaica.
As the Chairman and former President and Chief Executive Officer of Sagicor Group; Byles' leadership has been characterized by a series of successful mergers, acquisitions and divestments which have led to massive increases in profits and net worth of the organisation as well as contributed to the entity's amplified brand awareness. Prior to his move to Sagicor Group, Byles
was the President and CEO of Pan Jamaican Investment Trust Limited (Pan Jam) where he successfully led Pan Jam's largest subsidiary; First Life Insurance Company Limited, through the financial crisis in the 1990's.
According to Dennis Chung, CEO PSOJ; "Mr. Richard Byles exemplifies the caliber of business leaders which are needed to propel Jamaica and its economy forward." His keen business sense and commitment to national development, Chung continued, is one which is held in high esteem by the business community. He further noted that Jamaica will be forever indebted to Byles for his contributions to the nation especially during the time he served as Co-chairman of Jamaica's Economic Programme Oversight Committee (EPOC), which had oversight responsibility for the implementation of the IMF Agreement with the Government of Jamaica. The unparalleled success of the EPOC internationally, led to it becoming a standard enquired about, and modeled by other countries as a way to addressing their own fiscal challenges.
Mr. Byles joins a list of 24 previous inductees, including last year's recipient, Mr. Gary 'Butch' Hendrickson CD, JP Chairman and Chief Executive Officer of Continental Baking Company, and the 2015 recipient Mr. Earl Jarett CD, JP, Chief Executive Officer of JN Group.
Each year, since 1992, the PSOJ pays tribute to a private sector leader who has made innovative and sustained contributions to the development of the private sector over a minimum of 25 years, has demonstrated in-depth knowledge of the industry in which his/her company operates and demonstrates an unwavering commitment to the advancement of his/her industry and to national development.
-END-
 Contact:     Ms. Jodi-Ann Reid, Marketing and Public Relations Officer       
Email:        jodir@psoj.org            
Tel:             927-6238 (Ext. 2051); Fax 978-2709