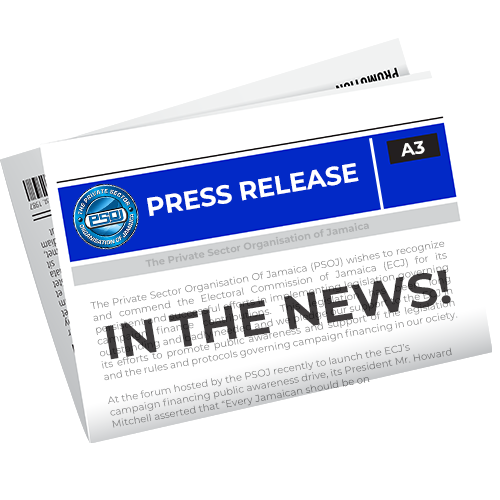 June 5, 2017
The Private Sector Organisation of Jamaica (PSOJ) welcomes the release of the financial records of Member of Parliament, Phillip Paulwell and commends him for his contribution towards transparency and good governance. Minister Paulwell's actions follows similar releases by Prime Minister Andrew Holness, former Prime Minister Portia Simpson-Miller and Member of Parliament Julian Robinson who must also be commended.
The hallmark of good governance are leaders who encourage transparency and disclosure to Jamaican citizens. The PSOJ is of the belief that the actions of these individuals go a considerable way in encouraging good governance. This demonstration is especially important as the trust index of the political process is very low and over 80 percent of Jamaicans perceive that politicians are involved in corruption; therefore, the leadership from these four politicians will go a far way in setting an example for other parliamentarians from both Houses to follow, if we are to bring integrity and transparency to the political process.
Mr. Paul Scott, PSOJ President, stated that "persons who seek to represent and hold positions of power and authority on behalf of the people of Jamaica, should always stand ready to win the trust of the people through transparency and good governance." He recommended that "…all parliamentarians follow the most recent example of Mr. Paulwell and thereby turn over a new chapter of improved trust of the political process."
The PSOJ therefore encourages all Parliamentarians to follow the example of Messrs. Holness, Paulwell, and Robinson and Mrs. Simpson-Miller in support of good governance.
-END-
Contact:     Ms. Jodi-Ann Reid, Marketing and Public Relations Officer       
Email:        jodir@psoj.org            
Tel:             927-6238 (Ext. 2051); Fax 978-2709