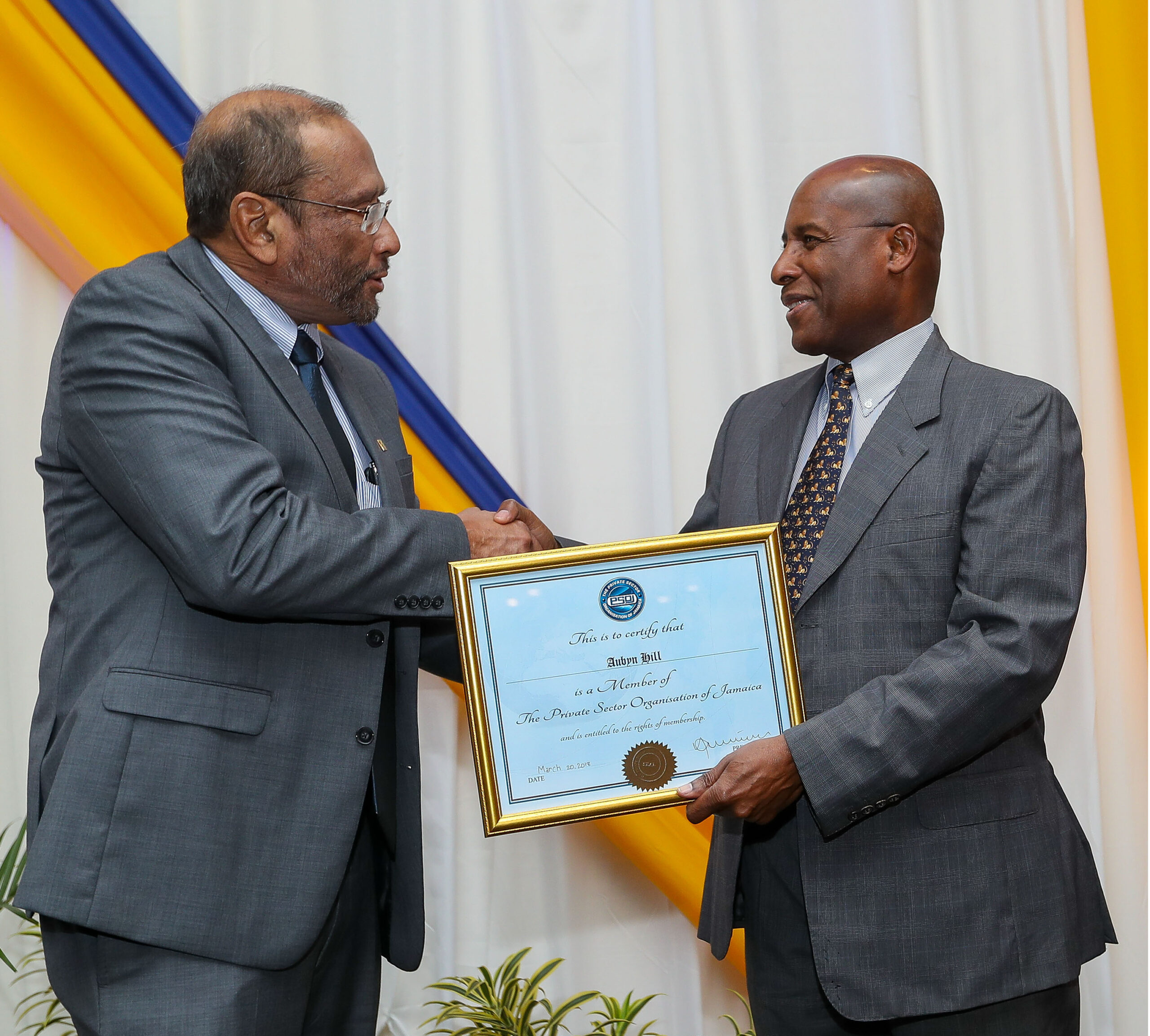 Kingston, Jamaica: – The second staging of the PSOJ's President's Forum for the year 2018, saw the induction of fresh blood to the Private Sector Organization of Jamaica.  
Among the companies inducted was individual member Senator Aubyn Hill.  The newest corporate members of the PSOJ are Digitronics Limited and Yello Media Group Limited. 
 From left: Howard Mitchell, PSOJ President welcomes Senator Aubyn Hill as an individual Member of the PSOJ during an induction ceremony on Tuesday March 20, 2018. 
From left: PSOJ Inductees  –  Andrew Madden, Digitronics Ltd President; Howard Mitchell, PSOJ President; Ayanna Kirton, Yello Media Marketing Manager; Aubyn Hill, CEO Economic Growth Council; Jennifer McDonald, CEO PSOJ; Tshani Jaja, Yello Media Director of Marketing; Rasheed Girvan, Yello Media Digital Manager; and Stuart Reid, NCB Assistant General Manager 
 The President's Forum is a series of breakfast meetings targeted at business and opinion leaders and held 6 times for the year that seeks to address key issues critical to private sector growth and development. New PSOJ members are also inducted at each of these meetings. National Commercial Bank (NCB) is the main sponsor of this event. 
For further information contact: 
Nickeshia Lindsay 
Marketing and Public Relations Manager 
Private Sector Organisation of Jamaica 
39 Hope Road 
Kingston 10,  
Tel: (876) 927-6957/349-0128 
Email:  nickeshial@psoj.org